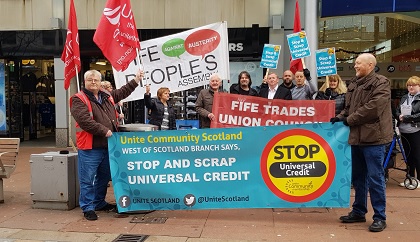 Universal credit is 'ineffective, confusing and not fit for purpose', according to protesters calling for its roll out to be halted.
Campaigners gathered in Kirkcaldy yesterday afternoon to mark one year since the single benefit was rolled out in Fife.
They are claiming it has led to a 300% increase in food bank use in Kirkcaldy.
There are warnings that delays in payments are driving people into rent arrears and pushing people towards expensive pay day loans.
Those fears are being echoed by Fife Council, who say they have seen a drop in their finances because so many of their tenants are behind on their rent.
Claimants often have to wait more than five weeks before receiving any money.
John Gillespie is from the Unite union in Fife: