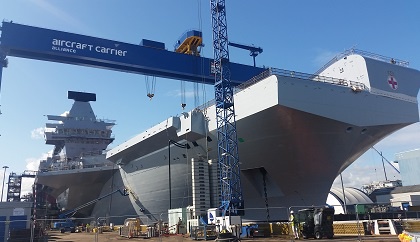 The HMS Prince of Wales was assembled by Babcock in Rosyth
It's believed 150 operations and management jobs are being cut at the Babcock dockyard in Rosyth.
The ship building and repairs firm made another 250 workers redundant before christmas last year.
Bosses there say they are speaking to the unions, with the aim of stopping compulsory redundancies and hopefully relocating the roles.
Dunfermline and West Fife MP, Douglas Chapman, said: "My concerns are with the 150 people who will be walking out the yard for the last time very soon and I have written to the Scottish Government to make sure that the Skills Development Scotland PACE team, who I met in Dunfermline a few weeks ago, are ready to support those who need help in finding new employment.
"The annoying thing is that it's always the Scottish Government who have got to sweep up the British mess left to us by the UK Government's poor decision making and their insensitivity to our needs.
"At the meeting with the Minister [MoD Procurement Minister, Guto Bebb] last week, I made it clear that the Royal Navy has a full complement of six Type 45 new destroyers that can't go to sea because they await upgraded power generators.
"Devonport also has two smaller ships awaiting refit. Some or all of that work could come to Rosyth to even out the order book.
"In addition, the Minister is also aware of our frustration with the late running process to sign orders for Type31e frigates where Babcock Rosyth and their partners have expressed a keen interest in winning that order.
"Sadly, for the 150 employees and the 250 people who were let go just before Christmas, it's the UK's lack of strategic planning and the timing of programmes that is costing people their jobs.
"For them and their families it's a heavy price to pay.
"I am more than happy to keep piling the pressure onto UK Government Ministers, but we really do need them to be focussed on the day job and start to deliver a brighter and more coherent future for Rosyth."