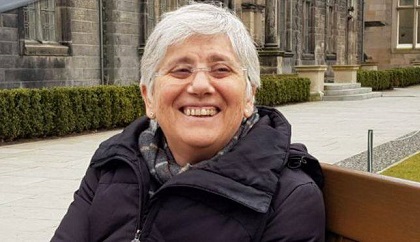 Professor Ponsati is a lecturer at the University of St Andrews
The First Minister Nicola Sturgeon has met the Catalan president and a St Andrews professor facing extradition.
Clara Ponsati is wanted by the Spanish authorities on charges of violent rebellion and misappropriation of public funds for her part as a former minister in the Catalan government during its controversial independence referendum last year.
The Spanish Government have asked for Professor Ponsati to be extradited from Scotland to face the charges, which she denies.
Pro-independence President Quim Torra was sworn in by Catalonia's parliament in May.
He met Professor Ponsati and the First Minister at her official residence, Bute House in Edinburgh.
Her legal team, who describe the prosecution as "politically motivated", warn she could face a sentence of up to 33 years if she is convicted of the charges.
That could mean the 61-year-old would spend the rest of her life in jail.
She faces a four-week hearing this summer, with a preliminary date set for the 23rd of July.
Prof Ponsati's lawyer Aamer Anwar has been speaking to Kingdom FM News: