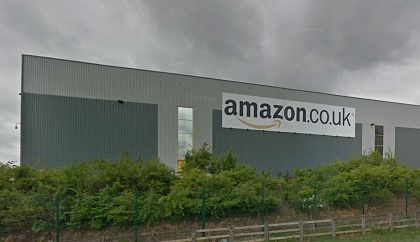 Amazon is being accused by one of the biggest trade unions in the UK of mistreating it's workers.
The GMB say the practices by the online firm - which has a warehouse in Dunfermline - are akin to 18th century working conditions.
The union say around 600 ambulances have been called to sites across the country in the last few years.
It is asking customers to consider the consequences for staff when they but their Christmas presents from the site this year.
Mick Rix from the GMB said: "Over 400 serious injuries have been recorded at these sites across the country over the past few years.
"We are showing solidarity with our members that work there and we will be saying to Amazon, enough is enough.
"The packages customers will be ordering will be delivered and will be picked by people in these warehouses that are working in degrading and dehumanising conditions. The packages are picked by people that are working in very bad conditions.
"It is about time Amazon got into the 21st century in the way they treat their employees, so it is not just about saying to people to think twice about ordering from them, it's about asking the public to send messages to Amazon saying 'we want you to treat your employees with respect."
In a statement Amazon said: "Amazon has created in the UK more than 25,000 good jobs with a minimum of £9.50/hour and in the London area, £10.50/hour on top of industry-leading benefits and skills training opportunities.
"All of our sites are safe places to work and reports to the contrary are simply wrong.
"According to the UK Government's Health and Safety Executive, Amazon has over 40% fewer injuries on average than other transportation and warehousing companies in the UK.
"We encourage everyone to compare our pay, benefits, and working conditions to others and come see for yourself on one of the public tours we offer every day at our centres across the UK."