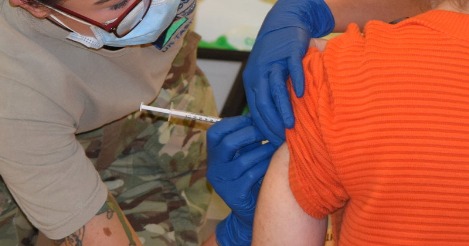 All of Scotland's adults should be vaccinated with their first dose of coronavirus vaccine by 18 July, according to the First Minister.
Nicola Sturgeon said at a Scottish Government briefing today that the Covid-19 vaccination programme north of the border is going quicker than previously anticipated.
The original target was at the end of next month, with the new expected date for that milestone around a fortnight earlier than that.
Meanwhile, letters are going out to people aged between 18 and 29-years-old who didn't sign up to the self-registration portal.
Anyone who doesn't get their blue envelope in the post by the end of next week can see when their vaccination appointment is through a new appointment checker online on the NHS Inform website.
Ms Sturgeon said: "All appointments for all adults should be with people by the end of next week.
"You can see that the programme is going faster than we previously anticipated.
"I'm also pleased to confirm that we now expect to have completed first doses for all adults by 18 July."
From this Monday (21 June), all of Scotland's NHS health boards will schedule second doses eight weeks after the first vaccination to tackle the Delta variant of the virus.
The interval between both doses was previously 12 weeks.
That particular variant has caused a rise in cases across the UK in recent times.
Health Secretary Humza Yousaf said: "I am delighted that we are on the brink of reaching the major milestone of having scheduled first doses for all adults, five weeks ahead of schedule.
"I want to say a huge thank you to everyone involved in the vaccination programme and all those wo have taken up their offer of a vaccine for their part in this remarkable achievement which has been accomplished in just over six months since the roll-out began."
Those using the NHS Inform website in the future will be allowed to rebook their appointment if the location or time needs changed.
Mr Yousaf added: "Anyone who hasn't received a letter by next week can visit the appointment checker at NHS Inform.
"The system lets you rebook if the timing or location is not suitable which will be a useful tool for students and anyone who has recently moved house.
"Additional capacity has been secured by NHS Boards to bring forward of all second doses from 12 to 8 weeks which is important given the emergence of the Delta strain as we know greater protection is provided after the second dose.
"Again, I want to stress how important it is that everyone takes up their offer of a vaccine when they get it.
"The emergence of the Delta variant shows we cannot be complacent, and the vaccination programme – along with restrictions and testing – offers protection to you, your loved ones and your community."