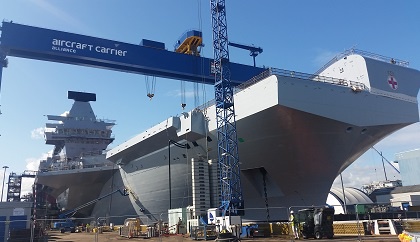 Two Royal Navy warships have been assembled at the Rosyth dockyard
An aircraft carrier that left the Rosyth dockyard in 2017 is returning for a refit, securing jobs at the site.
The Ministry of Defence has confirmed that HMS Queen Elizabeth, which was assembled by Babcock workers in Fife, will be refurbished at the same site.
Concerns have been raised recently about shipbuilding work being tendered out to foreign contractors, risking jobs being lost in Britain, including at sites on the East and West coasts of Scotland.
Dunfermline and West Fife MP, Douglas Chapman, said "This is one of the announcements I've been waiting for as, not only does it protect jobs at Rosyth dockyard, but also sets a valuable precedent which puts down a marker for future full scale refits.
"There is no doubt that the workforce we have in West Fife is one of the most skilled in Scotland.
"They've constructed the two largest ships ever procured by the Royal Navy.
"It's wholly appropriate that both ships return home to Rosyth for their refits.
"Rosyth is willing and ready to do the work and I am delighted that the UK government agrees with that assessment.
"Further down the line, we await U.K. decisions on Type 31 frigates and fleet support ships.
"Rosyth is in the mix to benefit from these contracts too.
"Again I urge the minister to get on with coming to a decision on these contracts which would keep these valuable skills at Rosyth for a long time to come."