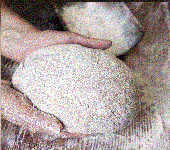 £25,000 worth of bread and cake donations have been given to Fife charities.
Hundreds of cakes and bread items that would have been wasted in landfill have been donated to local charities.
Bosses at Stuarts of Buckhaven's Dubbieside Bakery in Methil came up with the idea after trying to reduce the amount of goods they waste.
They're now donating between three and four tonnes of food a week to charities in Fife that help those going hungry - including the People's Pantry.
As a result the bakery has reduced the number of time their skip has to be emptied from every week to every two weeks.
The scheme's only been running for 12 weeks but has been widely praised by the charities and Fife Councillors.