Dears Pharmacy & Travel Clinic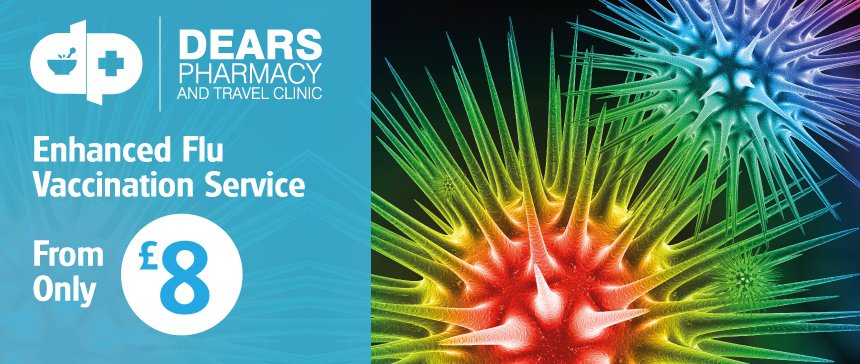 Get your Enhanced flu vaccination service thanks to Dears Pharmacy & Travel Clinic.
Protect yourself against four strains of flu for Only £8.....No appointment necessary.
Pop along to either of our Fife Pharmacies and protect yourself!
What is flu?
Flu is a virus which means that antibiotics are ineffective. Therefore, people suffering from flu will need time to recover and let the body fight off the virus. The Flu virus is spread through particles in the air distributed by infected coughs and sneezes. Since we all breath the air, it is a perfect vehicle for spreading the virus, especially in areas where people work closely with others.
When to vaccinate?
Vaccinations for flu are available from October each year. The best time to vaccinate is between October and November as flu is more prominent in the winter months. This will cover you for that year's strain of flu.
Why vaccinate every year?
Every year there are different strains of flu. Once vaccinated, you are only covered for the strain of flu in the vaccine. The Department of Health issues recommendations each year regarding which strain of flu should be included in the vaccine. The pharmaceutical companies then produce this vaccine and distribute it for administration. All flu vaccines used by Dears Pharmacies are those recommended by the DOH.
At Dears Pharmacy we pride ourselves in being a local community focussed pharmacy.
If you would like to know any more information about Enhanced flu vaccination or anything else please fill in the below form and one of our pharmacists will come back to you as soon as we can;
Receive special offers, exclusive members only competitions, and more.
Sign Up
Log In