Stevenson Funeral Directors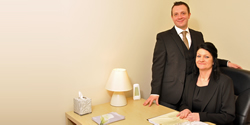 Stevenson Funeral Directors
Cardenden Funeral Home
125 Station Road
Cardenden
KY5 0BW
171 Links Street
Kirkcaldy
Fife
KY1 1QR
Telephone: 01592 669257
Website: www.stevensonfuneraldirectors.co.uk
About Us:
Stevenson Funeral Directors are a private and independent company that have many years combined experience in the funeral industry. When you lose a loved one it is hard enough without adding a massive funeral bill to your worries. That is why our prices are realistic and considerably less than other Funeral Directors in the area. We are accredited members of the Federation of Small Businesses and work closely with Funeral Planning Services to ensure a high standard of Pre Paid funeral plans to our clients.
Our Services:
We offer a full range of funeral services and additional services including floral tributes, newspaper notices, traditional and unique transport options, release of white doves, pipers and many more. We are proud that all of our coffins, wooden urns and caskets are hand crafted locally to the highest standard. Our Funeral homes offer a peaceful and homely place for you to make funeral arrangements. Both our funeral homes have peaceful and well-furnished private remembrance room for your loved one to rest in prior to the funeral. You are more than welcome to visit your loved on in one of our private remembrance rooms, please let your Funeral Directors know if you plan to visit.
Funeral Costs:
Funeral costs are divided into two main areas, these being Funeral Directors Charges and Disbursements Charges/Third Party Charges (payments made to external suppliers)
Funeral Directors Charges:
These are the costs for everything that your Funeral Directors carry's out for the funeral including arrangement meetings, care for your loved one, supply of a coffin and transport of your loved one to a final resting place.
Disbursements/Third Party Charges:
These are the costs we pay on your behalf including Council Fees, Doctors Fees for cremation certficates, Donations to Clergy or Celebrant fees, Newspaper notices and floral tributes.
Pre Paid Funeral Plans:
Pre Paid Plans allow you to pay for your funeral up front to secure your funeral up front and secure your funeral cost at today's prices, by planning ahead for yourself or a loved on this ensures that you can choose what final tribute you wish to have. Please speak to one of our Funeral Planning Consultants about Pre Paid Plans.
Pre Arranged Funeral Plans:
Pre arranged funeral plans are slightly different to pre paid plans in that you make all of the arrangements but do not pay anything until time of death. This is a popular choice as no money is paid at time of arrangement but you are able to put all your wishes into the arrangement to ensure you get the final tribute that you want. Please ask one of our Funeral Planning Consultants to receive your arrangements pack